Sacred Grove Retreat Center is situated on 11 wooded acres and combines natural beauty and comfort to provide a safe and supportive space for events of all kinds. The expertly designed ropes challenge course provides an exciting, safe, and supportive space to use for personal development, and team building events.
Guests connect with nature by hiking scenic trails, taking a meditative walk on the labyrinth or enjoying the beauty of the butterfly garden. After sunset, the stars are the backdrop for magical bonfires and drum circles. An extensive metaphysical library in the Grove House offers books for deeper knowledge on a variety of subjects.
Sacred Grove Retreat Center has six climate-controlled rental facilities to choose from – a hand-built Log House, the Grove House – the primary retreat home, the Thoreau Cabin, the Baby Yurt, and the Grandmother and Empowerment yurts.
Our newest addition to the property, the Ropes Challenge Course presents an exciting venue for team building and leadership development. Working together, your team members will stretch personal limits and build group cohesiveness, while developing skills in leadership, goal setting and decision-making. Physical strength and fitness are not a prerequisite for achieving success on our course.
Conveniently located near the Uwharrie National Forest and Morrow Mountain State Park, Sacred Grove Retreat Center gives the feeling of being secluded while being a short driving distance from major cities such as Charlotte, Winston Salem, and Greensboro. Raleigh, Chapel Hill, and Durham are two hours or less away and Asheville is under three hours away.
If you choose to rent the Grove House or the Log Home, you can add on a yurt to use as your meeting or workshop space. These magical round structures allow participants to sit in a circle, which promotes connectivity and creativity. Both yurts are heated and air-conditioned, and Sacred Grove Retreat Center provides 6 ft. tables and chairs. Catering is also available upon request.
Oct
16
Tue
2018
ROPES FACILITATOR TRAINING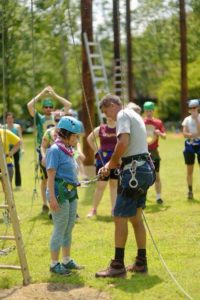 Level 1 Certification taught by Dan Miller of Chiji Dynamics.
This is a five day intensive training that will focus on:
Leadership Skills Development
Technical Skills for Operating a Ropes & Challenge Course
Designing Experiential Team building activities
Processing/Debriefing the experience
Upon completion of this training, participants will be proficient in the areas of:
Spotting
Low Elements and Group Problem Solving Initiatives
High Element Setups procedures
Equipment Care and Maintenance
Knot Tying
Belaying both Dynamic and Static Elements
Safety Issues
The Skills and experience gained through this program will serve you for a lifetime!
Testing for the Level 1 Challenge Course Practitioner Certification will be provided by ABBE, Inc.
COST: $750 Training PLUS Lodging
Lodging will be available at Sacred Grove. Shared Room or dorm room: $40/night. Private Room: $85/night. Please bring all bedding or a sleeping bag and towels. A pillow is provided.
CONTACT Sacred GROVE

RETREAT for availability
​the Ropes Challenge Course
lodging, group facilities, & amenities
Sacred Grove Retreat Center offers a variety of in-house retreats and team building events, as well as space for you to create your own corporate, educational, wellness, or team building event.
Whether you attend a hosted event or would like to facilitate your own, think "Outside The Box" and make your reservation at Sacred Grove Retreat Center today.