how a ropes challenge COURSE strengthens you and your team
Due to COVID-19, Sacred Grove Retreat Center now specializes in Short Term Rentals utilizing the highest safety and social distancing standards. Located on 11 scenic acres in the countryside of Cabarrus County, North Carolina, Sacred Grove Retreat Center offers a place for individuals and small groups to gather, experience adventure, reflect, bond, focus, and grow. There is plenty of room to commune with nature and get away from the stressors of life.
Sacred Grove Retreat Center has 5 lodging options where you can practice social distancing with just yourself or your family.
Until the pandemic is over, we are not doing team building exercises using the High Ropes Challenge Course.
Whether you are looking to go on a retreat for quiet inner reflection or with your family or friends, Sacred Grove Retreat Center is the place for you!
RETREATS
Sacred Grove Retreat Center offers space for you to create your own corporate, educational, wellness, or team building event. It is secluded, yet conveniently located for easy access from several major cities.
TEAM BUILDING
The Ropes Challenge Course presents a unique experience where groups come together to create effective teams. They are empowered through encouragement and team building exercises. It provides a safe, supportive atmosphere to bond, grow, and explore potential. Due to COVID-19, we are not doing any team building activities at the present time.
LODGING
Sacred Grove Retreat Center has five climate-controlled lodging facilities to choose from – a hand-built Log House, the Grove House, the Thoreau Cabin, the Baby Yurt, and the Yummy Yurt. When you rent for the day, weekend, or week, you also get access to all the common areas.
Apr
6
Fri
2018
THREE DAY SILENT MEDITATION AND YOGA RETREAT APRIL 6-8, 2018

@ Sacred Grove Retreat Center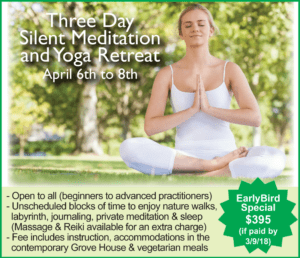 · Open to all (beginners to advanced practitioners)
· Unscheduled blocks of time to enjoy nature walks, labyrinth, journaling, private meditation & sleep (Massage & Reiki available for an extra charge)
· Fee includes instruction, accommodations in the contemporary Grove House and vegetarian meals
· Early-Bird Special $395 (if paid by 3/9/18)
· Call for more Information: 704-299-5124
· Short driving distance from major cities: Charlotte, Salisbury, Winston Salem, Greensboro, Raleigh, Chapel Hill and Durham
Jul
15
Sun
2018
OPEN HOUSE

@ Sacred Grove Retreat
Jul 15 @ 12:00 pm – 5:00 pm
We will be hosting an Open House to showcase Sacred Grove Retreat Center. Join us for the afternoon and see all of the offerings that we have. Bring a guest with you and come tour the grounds and facilities. Light refreshments will be served. Please RSVP by text to Ellen at 704-299-5124 or by e-mail to ellen@sgrnc.com.
Aug
31
Fri
2018
ThetaHealing® Basic DNA Retreat

@ Sacred Grove Retreat Center
Aug 31 @ 4:00 pm – Sep 3 @ 2:00 pm

Join Tina Marie, owner of Effervescent Wellness and ThetaHealing® Instructor, and Bodhi Deva Ma, co-founder of New Paradigm and spiritual coach, healer and yoga teacher, for a life changing retreat experience at Sacred Grove in North Carolina.
Relish in a long weekend of healing, yoga, community, connection, nature, and sacred ceremony.
Through this transformative healing experience you will become a Certified ThetaHealing® Basic DNA Practitioner empowering you to perform deep healing on clients and yourself.
When lightworkers come together to experience and share unconditional love, magic happens!
The magic of this weekend includes:
Becoming a Certified ThetaHealing® Basic DNA Practitioner
Morning Yoga
Sacred Cacao Ceremony
Nourishing vegetarian meals
What you'll learn (and so much more):
How to directly connect to source energy to heal from the highest plane of existence
DNA Activation
Perform intuitive readings, Guardian Angel readings, and call in Soulmates
Receive healing of sub-conscious beliefs that are no longer serving
Download feelings and beliefs that serve your highest and best on your ongoing journey
Cost: $785 commuter/$1100 immersive retreat
For the full schedule, and details visit tinamarieolsen.com
We are so excited to spend 4 days and 3 nights with you, empowering you to fully shine your light!
"You are needed and now is your time" – Lee Harris and the Z's
*For more information about ThetaHealing® or for any questions go to tinamarieolsen.com