how a ropes challenge strengthens you and your team
Sacred Grove Retreat Center operates as a personal growth and leadership facility. Located on 11 scenic acres in the countryside of Cabarrus County, North Carolina, Sacred Grove Retreat Center offers a place for individuals and groups to gather, experience adventure, reflect, bond, focus, and grow.
Sacred Grove Retreat Center offers facilities and amenities for retreats and special events, as well as several lodging options for personal and group getaway experiences.
The most exciting addition, the ropes challenge course, is the perfect tool for leadership, team, and personal development.
Whether you seek to grow through quiet inner reflection or learn to overcome outward challenges, Sacred Grove Retreat Center is the place for you!
RETREATS
Sacred Grove Retreat Center offers a variety of in-house retreats as well as space for you to create your own corporate, educational, wellness, or team building event. It is secluded, yet conveniently located for easy access from several major cities.
TEAM BUILDING
The Ropes Challenge Course presents a unique experience where groups come together to create effective teams and empower them through encouragement and team building exercise. It provides a safe, supportive atmosphere to bond, grow, and explore potential.
LODGING
Sacred Grove Retreat Center has four climate-controlled lodging facilities to choose from – a hand-built Log House, the Grove House, the Thoreau Cabin, and the Baby Yurt. When you rent for the day, weekend, or week, you also get access to all the common areas.
Oct
16
Tue
2018
ROPES FACILITATOR TRAINING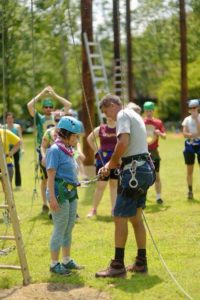 Level 1 Certification taught by Dan Miller of Chiji Dynamics.
This is a five day intensive training that will focus on:
Leadership Skills Development
Technical Skills for Operating a Ropes & Challenge Course
Designing Experiential Team building activities
Processing/Debriefing the experience
Upon completion of this training, participants will be proficient in the areas of:
Spotting
Low Elements and Group Problem Solving Initiatives
High Element Setups procedures
Equipment Care and Maintenance
Knot Tying
Belaying both Dynamic and Static Elements
Safety Issues
The Skills and experience gained through this program will serve you for a lifetime!
Testing for the Level 1 Challenge Course Practitioner Certification will be provided by ABBE, Inc.
COST: $750 Training PLUS Lodging
Lodging will be available at Sacred Grove. Shared Room or dorm room: $40/night. Private Room: $85/night. Please bring all bedding or a sleeping bag and towels. A pillow is provided.
Sacred Grove Retreat held our Plant Spirit Medicine class so perfectly for 8 straight days.
From the beauty of the land and fire circle to the yurt classroom setting to the student and teacher accommodations… all of our needs were met and exceeded. Ellen made everyone feel like Sacred Grove was our home away from home. Her warm spirit and genuine attentiveness and care throughout the entire week made the difference between a good week and a wonderful week. We at the Blue Deer Center are so grateful to have such a perfect place near Charlotte to host our PSM Healer Training in the coming year. Thank you, Sacred Grove Retreat!
Colleen
...
Local Coordinator, Plant Spirit Medicine at Blue Deer Center