Spring unlocks the flowers to paint the laughing soil
Spring is in the air at Sacred Grove Retreat Center! The flowers are flaunting their colorful blossoms; the Azaleas, Camellias, Red Buds, and Dogwoods are in full bloom, and the trees of the forest are birthing new leaves. All around us, Nature's cycle of rebirth is evident in the flora and fauna on these eleven beautiful acres.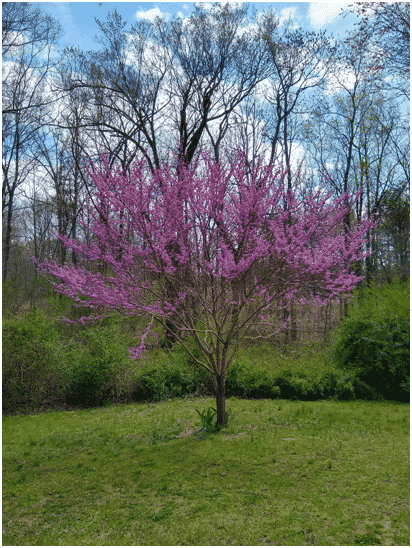 Swallowtail butterflies grace the rows of blueberry bushes, squirrels cavort in the trees, birds sing from their branches. It is a delightful and magical time of year here at the Grove!
If you like nature photography, or just want to enjoy the sights and sounds of Springtime, plan a weekend stay and walk the trails, or sit on the porch of the Thoreau cabin or the Log House and enjoy the fresh air and peaceful surrounds. Sacred Grove is a great place to rest, relax and unwind from the hustle-bustle of everyday life.
Sit in the vortex area near the Grandmother Yurt or pay an evening visit to one of two sand-based fire circles. Make a fire in the fire-pit as the sun goes down, and sing and dance around it; or make S'mores and tell stories.
Sacred Grove is also ideal for Springtime Retreats. We are located just outside of historic Gold Hill, NC., about an hour from Charlotte and 2 hours from Raleigh. So, if you're planning a retreat and are looking for the perfect place to hold it, check us out! Give us a call and come for a visit.
Happy Spring!