Molly Barker Joins the Team
We are thrilled to welcome Molly Barker as a program consultant to the Sacred Grove Retreat Center Team.  Molly, as many of you know, is the founder of Girls on the Run International.  (www.girlsontherun.org.)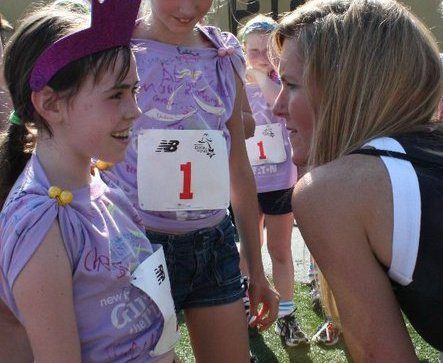 Since "retiring" from the organization in 2013, Molly has been busy serving on the Commission for Political Reform in Washington, D.C., remaining active on social justice/gender issues, and expanding her resume to include facilitating leadership workshops around the world.
This past year, however, Molly took some time to reevaluate. In November of 2018, she gave away most of her belongings, packed up what was left into her car, and moved herself and her two dogs to Marfa, TX.  In Marfa, Molly did some soul searching, re-identified her love for sports (She is after all the founder of the largest kid's running program in the United States) and decided to return to her wheelhouse…creating and facilitating quality experiential programming for small groups, that transforms, inspires and activates people to live into their highest potential. 
We won't share the cool story of how we found Molly, but we are happy to share it when you visit!  (It's a true testimony to the power of intention.)  In the meantime, know that Molly is on board and ready to help you create an amazing experiential retreat for your friends and colleagues.  She is also available to assist with facilitation.
A more formal read of her bio looks like this:
"Molly Barker is the founder of Girls on the Run International, the program that uses running to empower girls. A four-time Hawaii Ironman triathlete, Molly used her background in social work, counseling and teaching to develop the program. Since Barker founded it in 1996, it has served over a million girls and earned her numerous accolades, including the Distinguished Alumni Award from the University of North Carolina at Chapel Hill and the Daily Point of Light Award, given by President Obama and Former President Bush in a ceremony at the White House.
Since retiring from the organization in 2013, Molly has continued to grow, evolve and create. She is currently freelancing as a program consultant, helping global businesses and entrepreneurs build (and facilitate) quality experiential content for programs and retreats.
Molly is the author of three books. Her most recent is entitled "The Wisdom Stories: Finding Wisdom in the Ordinary."  She is also the mother to two children: James, an outdoor enthusiast and guide and Helen, a professional "dog whisperer." When asked recently what her mom does for a living, Helen responded, "My mom listens and loves people for her living."
You can find out more about Molly and all her wanderings at www.mollybarker.com and are welcome to email her at molly@sgrnc.com.